CuteFTP Tutorial

Chapter 1 - Making connection


Chapter 2 - Uploading Files
---
Firstly you will need to install CuteFTP on your computer.


Download CuteFTP, Click Here
How to Use Cute FTP.
Chapter 1 - Making a new connection.
1. Open your Cute FTP program.
2. If this is your first time you have opened the program a "Site Manager" box will appear over the body of the program, click "New".
3. (See Fig1)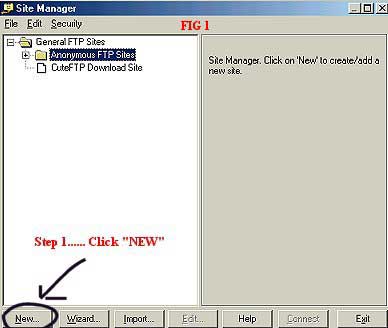 4. IF you have opened the Cute FTP program previosly, click on the little "book" in the upper left corner. (See fig 2)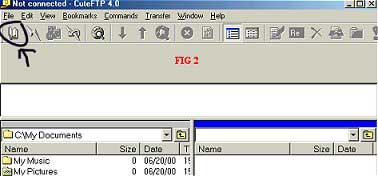 5. You will now be taken to a box to fill in your FTP account details. These will be the FTP details supplied by your webhost.
6. See Fig 3.
7. At A/ Fill in KANZEN FTP.
8. At B/ Fill in your ftp host site address as supplied by your webhost. The address will be - ftp.kanzen.com.my
9. At C/ Fill in your username as supplied by kANZEN representative.
10. At D/ Fill in your password as supplied bykANZEN representative.
11. At E/ Check "Normal"
12. Click "Connect"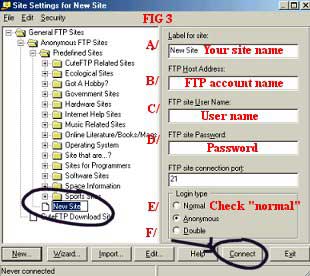 Chapter 2 - Uploading Files
Once you have connected to your hosting account via Cute FTP, you can now start to upload your files
1. Scroll and find the folder that you have saved your files into.
2. Double click the file to upload to your account.
3. (See Fig 4)
4. Your uploaded files will now appear in your hosting account on the "Right Half" of the Cute FTP program.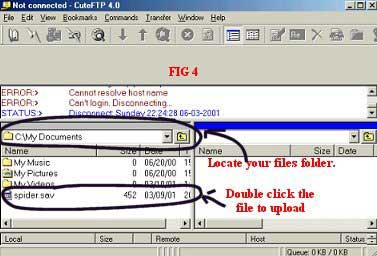 5. To upload multiple files, highlight the required files and then select "Transfer" at the top toolbar.
6. Scroll down to "Queue"
7. Select "Add to Queue"
8. See Fig 5
9. When you have all the files you wish to transfer in the queue, select "Transfer" at the top toolbar and click on transfer queue.
10. See Fig 6